Earth Day Celebrations 2019
With April showers comes Earth Day, a time to celebrate our environment and re-examine our effect on the world around us. Though Earth Day itself fell on April 22nd, environmental celebrations span the entirety of April and showcase a commitment to a cleaner and healthier planet.
This April, LCF was once again a part of LSU's Louisiana Earth Day festivities on Sunday, April 28th. The event, held at the Parker Colosseum, featured over 70 exhibitors offering various activities and exhibits relating to studying or taking care of the environment. LCF hosted an EV Alley right outside of Parker Colosseum for visitors to get a firsthand look at some popular electric vehicles and learn more about EVs. EV Alley 2019 featured Tesla models S, 3, and X along with a Honda Clarity, a Chevy Volt, and a new Jaguar iPace loaned to us by LCF member the Paretti Family of Dealerships! Visitors were able to check out the vehicles' features and chat with the owners to learn more about what owning an EV or hybrid is like.
The event was a success, with many coming out to visit the booths inside Parker Colosseum and take a stroll down EV Alley. Many curious visitors had questions about EVs and the realities of owning one that LCF staff and the vehicle owners were able to answer. Some had never seen what's under the hood of an EV or hybrid and were curious about how they worked compared to a traditional gasoline-running vehicle. LCF's Executive Director, Ann Vail, even did an interview with WBRZ about EV Alley and the Earth Day festivities.
While LCF has been celebrating Earth Day at LSU, our member organizations have been mounting their own Earth Day celebrations and promotions this month.
SWEPCO hosted an Earth Day event at Eagle Watch Nature Trail in Gentry, Arkansas, focused on wildlife. The event included presentations on raptors, moths, butterflies, and other pollinators by various wildlife experts along with activities for groups focused on gardens that help promote butterflies and other pollinators.
Republic Services pledged this year to make #EarthDayEveryDay by offering helpful Earth Day tips and encouraging consumers to think about their recycling choices:
Step 1: Know what to throw. Keep it simple and focus on the basics – 1) cardboard and paper, 2) metal and aluminum cans and 3) plastic bottles and jugs. With bottles and jugs, leave the caps on or throw them away – they're too small to recycle by themselves.
Step 2: Empty. Clean. Dry.™ Keep all recyclables free of food and liquid to avoid contaminating the recyclables around them. Don't allow more than one teaspoon of liquid to remain in a recyclable container.
Step 3: Keep it loose. Never bag or bundle recyclables – items should be placed in the container individually. Plastic bags do not belong in household recycling, however many stores collect them for commercial processing. (Republic Services)
To celebrate its efforts to reduce emissions, Chargepoint promoted the importance of EVs in reducing emissions by releasing an infographic detailing how drivers using the Chargepoint network of chargers reduced emissions in 2018: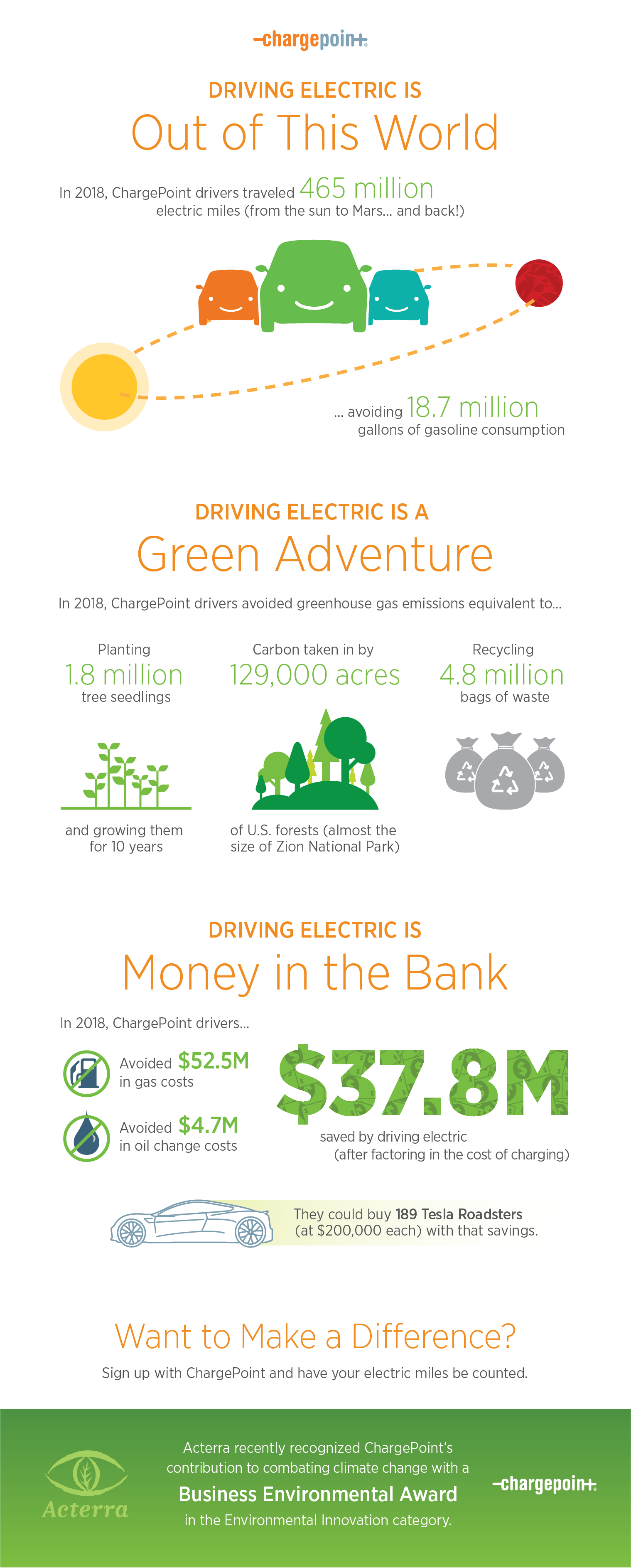 Earth Day is a great time of year to reflect on how we affect the environment throughout the year and focus on what we can do to be more environmentally conscious. Whether it's learning about local wildlife, changing your recycling habits, or driving an EV to reduce emissions, there are many ways we can all be kinder to our world and take better care of the place we live.